A perfect stylish man requires to have a elegant and extraordinary outlook in order to make more attitude and a trendy leather jacket. Is the one and only style that instantly changes your appearance because nothing is more essential than outlook or appearance of a man. Do you have any experience wear a leather jacket in the rain?
There are different types of leather jackets obtainable in the market, they are absolutely fit and worthy for any seasons specially rainy season but after getting wet you need to take some extra special care or treat to recover water damage.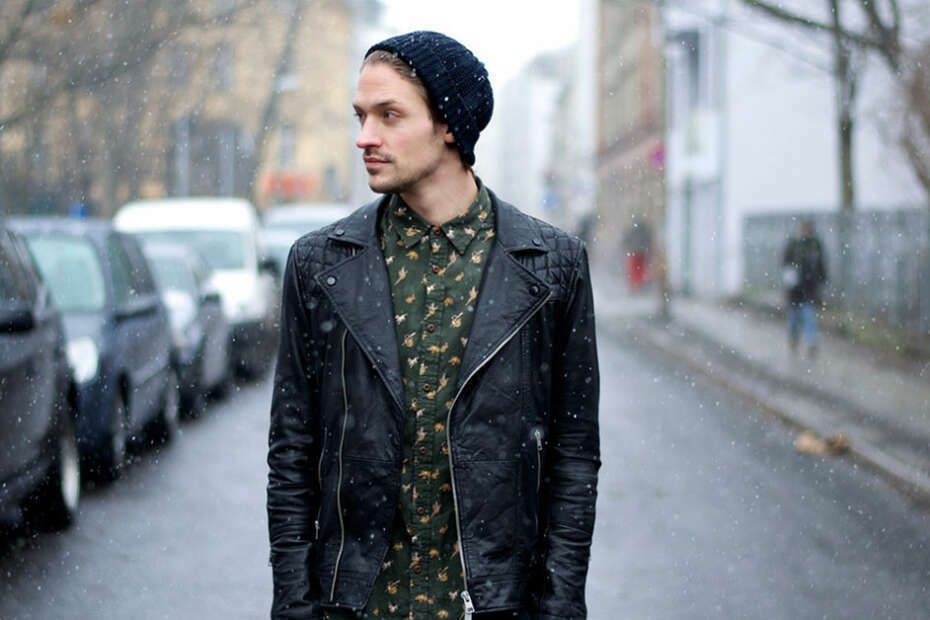 Is this fine wear a leather jacket in the rain?
In general my answer is yes, you can wear a leather jacket when it is heavy or natural raining outside, but there are some things you have to know the longer leather jacket stays impregnated in wetness, the greater the chance of harm.
If you wear a leather jacket in the rain, clean it properly , dry it gently as and condition it smoothly as early as possible ,when you go back your nice home or enter your favorite destination.
Simply how do you protect leather from rain?
Dry it naturally with a clean ,soft ,dry cloth wipe off all excess water as early as possible. after that hanging it until its fully dry.
Clean the leather jacket with a perfect cleaner that is suitable for your leather type because it varies leather to leather. This cleaner will soft and supple the stiff and dry leather jacket (Burnish lather jacket) due to rain. Before going to the next process the surface of the leather jacket must be proper clean.
The next and final step is condition it with a high quality  leather conditioner. This conditioner will help to absorb the fibers of your leather jacket, condition them and make a creamy buttery flexible leather. This also assist to protect your leather jacket future water or rain issue and provide it more durability.
You need to add some extra attention to keep your leather jacket lifelong.
The following instructions given below——
Do not clean leather jacket always at home. Sometime needs professional cleaning.
Keep it dry place.
Stand or hang it nicely.
Condition it perfectly.
Keep away from harsh sun light.
Not necessary but if possible skip wearing leather jacket in the rain.
FAQ :
Question. Is leather jacket waterproof?
Answer : No, leather jacket is not waterproof but tumbled leather jacket is 100% waterproof but all the medium range leather jackets are water resistant. But if your leather jacket gets wet due to water or rain it can increase its dryness and decrease its essentials oils.
As a result, it becomes inflexible. It also loses its soft appearance.it does not actually mean that your leather jacket will be spoil if you wear a leather jacket in the rain.
Question. Can a leather jacket be damaged if it's worn in the rain?
Answer : Depending on what do you mean by damaged, when worn it in the deep rainy season or heavy rain until it is absolutely wet. You continue to wear it while drying it will pervert its shape little bit and model on you, creases become more clear and apparent and so on, it will not happen back To his primal shape once dry, slight rain or short issue did not do anything. Yet suede jackets may get water stuck.
Question. Is there a chance of destruction for all types of leather jackets , if you wear it in the rain?
Answer : I can realize the risk of destruction of the leather jacket when wet to rain. Moreover, there are many essential steps and particular care taken and considered when designing , completing or finishing a leather jacket. So, some specific leather jackets are finished making it can be used in the rain. So, yes there is an opportunity to destroy but not for all types of leather jackets. But you can be alert how you could safe your leather jacket from destruction.
Question. Can rain stain leather jacket?
Answer : Water oil strips are inborn ,regular and ordinary oil, and when wet leather dries, you will often notice that it becomes dry and fragile. While rain can bad affect the leather jacket, the following steps that I have mentioned can help you recover rain damaged and preserve your expensive leather jacket by doing oil treatment.
Question. What time do you wear leather jackets?
Answer : generally Leather jackets are most familiar and well known for winter, but in the summer we see motorbike riders wearing a leather jacket randomly. Many leather jackets brands have designed and finished leather jackets throughout the season outerwear by making layers in breathing for summer, and winter jackets are coated with warm soft fine hairs.
My Guide :
If you have a best designed leather jacket that commits high features and lovely quality definitely I would say you can wear it in the rain .
there are different leathers and  beautiful designs available in the market . you can buy or purchase it as per your choice and requirements .
a well class ,genuine and expensive leather jacket is an asset for everyone but you should take proper care to maintain its longevity and durability .
Do you like to make it simple or extra more a leather jacket is a garment that is all seasonal fashion wear . The rain showing off your leather jacket in style as well as personality.
Conclusion :
Leather jacket is exactly a vital representative and a multipurpose fashionable outfit that can be worn with any type of garments like shirt ,t shirt ,polo shirt ,jeans ,formal or casual trousers and many more options. It is suitable for every occasion, match with any time and any weather including rain or rainy season, so there is no doubt about this matter.
On the other hand , a leather jacket is a vast investment and you can back your profit by wearing it for many years smoothly.
One prominent benefit of the leather jacket is its long life. Leather jackets, if taken care of correctly, just get better over time.so lets get out in the rain wearing leather jacket with comfort and pride.