What is leather marking tools :
When executing on different leather craft projects, or even craft projects that relate to leather, leather marking is a practical, favourable and excellent way to show a cut mark, stitch mark or add a writing or attractive design. These acts are done or completed by various working tools; these tools are familiar to leather marking tools.
The importance of leather marking tools?
Leather marking tools have both functional and aesthetic purposes that matter for shorter or longer time marks on the leather. Some tools involve the application of color to the surface, like pens, pencils or nicely formed markers. Other tools involve the process of penetrating the leather, like over stitching wheel, scratch awls etc.
How can you mark on a leather?
Leather is marking on in various ways. It depends on the marking materials, process, quality and requirements. They are marking pen, scriber pen, pencil chalk, scratch awls, compass and wing dividers and many more tools.
The permanent and durable marking tools on leather in different point of view :
Leather marking tools can be permanently and durably marked; use a specific leather pen or marker for writing or painting. If you want to mark it permanently for sewing or seaming, a leather stitching wheel marker does work best. If someone wants to mark a vast area with colour or even try to arrange style, the leather dye can help to mark it permanently.
Leather marking tools :
1. Tandy leather marking pen :
This leather marking tools leaves a perfect mark visible on the grain side of the finished leather so that it freely rubs off with pressure from your finger when it is no longer required.
A great and awesome marking pen for original leather and faux leather(Why Faux Leather Jackets Peel). So make your lines perfect by using this tandy leather marking pen
2. Leather scriber pen/positioning marking tool :
This stainless steel leather marking tools are suitable option for leather craft specialists and beginners. It is the right option for marking leather. Very strong, durable, and protective to use.
The formation of the upper small round head is to save the finger from injuring when using.
You can use it for different markings like line description, pattern positioning, leather printing etc.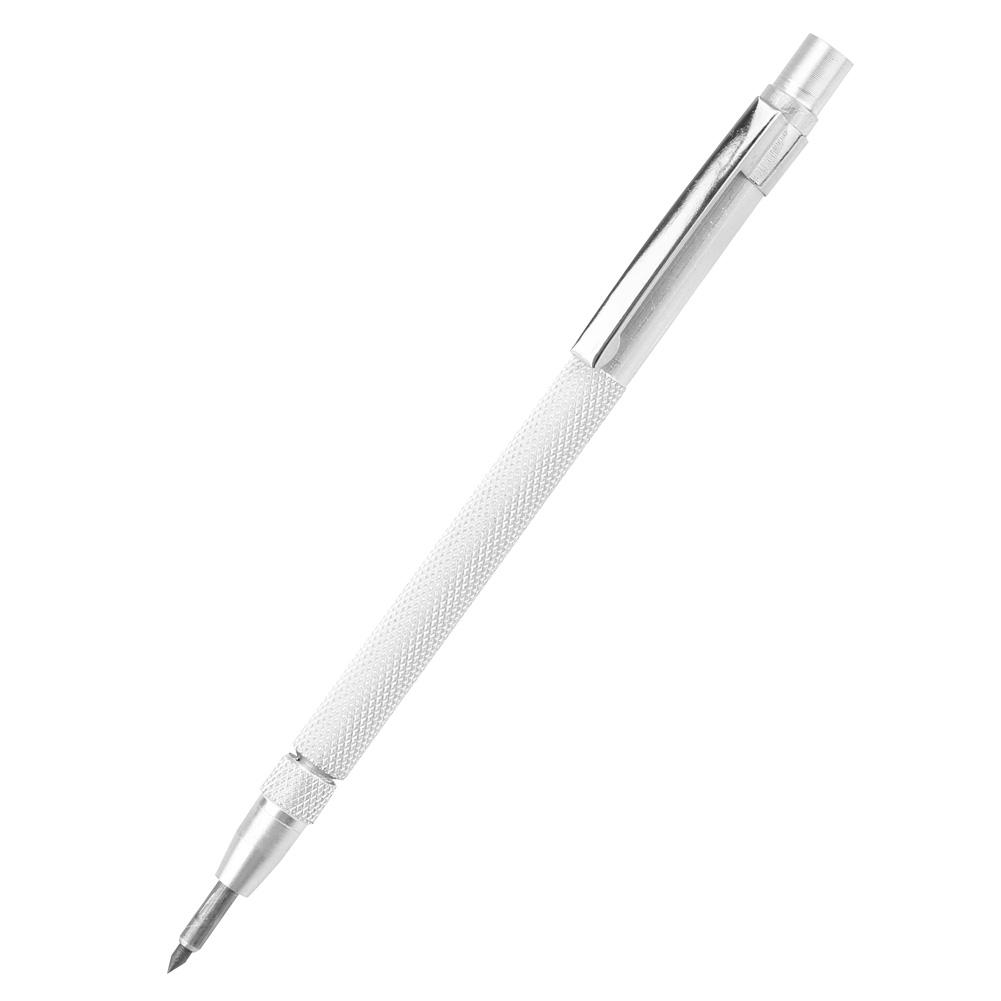 3. Metal ruler :
Very essential tool for exact marking, measuring, and folding. You can use it as a instructor when cutting thin leathers with various knives.
There are different sizes metal ruler available in the market. You can purchase any of those as per your requirement.
4. Measuring tape :
I think this is the most important tool for leather making project. Without it, it is quite impossible to make measure, even mark on the leather.
This plastic tool, showing metric measurements up to 150 cm and other measurements up to 153 cm or 5 ft.
There are different color options of it, so you can choose your favorite one that are available in the market.
5. Leather stitching wheel marker :
This wheel marker creates stitch spacing in leather as simple as tracking a line. When you turn the wheel along the lines left by the divider, the spurs stabbed the leather frequently, describing an easy beginning point for an AWL. These include four wheels that can be exchanged for making 3 mm, 4 mm, 5 mm or 6 mm stitches space.

The perfect wooden handle and high-quality metal make it more workable and comfortable. A fast and accurate sewing stitching tool and a neat and clean way to mark stitches. Very fruitful for beginners and professionals.
6. Edge creaser leather marking tool :
Handy and exceptional marking tool that works smoothly and nicely without damaging the leather. This marking tool is premium quality stainless steel and has a high-quality wood handle that adjusts easily in hand.

You set it up against the edge of the leather, and it will address a fine border following the outline of your leather. This tool makes a clear line to pursue with your stitches.

If you want to get professional results for a long time, that will be your great choice for this purpose.
7. Stitch marking punch :
This marking tool is a very top quality stitch punch made from 100% stainless steel. This punch is used to mark stitch holes with the small wooden hammer and nylon board.
8. Tailoring chalks :
Tailoring chalks are one of the most common leather marking tools for many leather work. very affordable and easy marking tool also. if we think it generally and practically the usefulness of this marking tool is never ending. They come in different shapes, sizes and colors.
Very easy to mark and rub, leather craft professionals and ameaturer use it for all kinds of leather.
9. Automatic chalk wheel :
This automatic chalk wheel is quite charming the way they are formulated. it has a toothed tracking wheel that will help you build a clean chalk line while reducing exhaustion in your hand. they are very essential leather marking tools even extraordinary. But not fit for complex leather project.
10. Pencil chalk :
Pencil chalk or chalk pencil is totally different leather marking tools for easy and fast marking. this pencil is very appropriate for marking small areas. Besides this they are doing so well for various type of leather markings.
If you want to get best work, your pencil must be very sharp and wax-free, as a result you will be achieve your excellent finished marking.
11. Letter and number marking tool :
With this tool, you can make proper and straightforward finishing with less effort and time. At first, you have to wet the leather with a sponge; after that apply the hammer to hit the end of the handle. Make sure that the power is under control and avoid surface damage.

Applicable for vegetable tanned leather and hand-made leather items. Very workable tool for leather craft beginners and professionals.
12. Leather dye pen :
There are different types of colorful dye pens available in the market. They are an essential and valuable marking tool for touching up a portion of dyed leather.

They perfectly dye the repaired area to match the original leather color to look much better before that. Another good part of this leather marking tools is fastened working.
13. Scratch awls :
Specially this marking is formed a rounded sharp point. They are mainly used for making holes in the leather as well as marking or scratching too.
This helpful tool leaves a mark where leather demand holes in any places. Do not pressure over, just simply push it in the leather. It is the ideal choice to leave marks in the leather.
14. Leather corner tool :
The leather corner tool is an essential marking tool used to mark small angles and curves on leather. Generally, this stencil guide is made of plastic or metal, but it sharply marks the curved area.

You may also use it as a cutting guide of the leather. This leather marking tools perfectly traces the curve portion, establishing a soft, clear, even curved cut.
15. Over stitching tool :
A over stitching tool has a small toothed handle and head that you can use to mark your leather edge for stitching or seaming or decorative purposes. even you can use the over stitching tool to make a mark where your stitching hole will go.
They are available in different size for different stitches. You will purchase any of those what you exactly need.
16. Stitching groover :
The stitching groover is well known as a good margin marker to the leather professionals for leather markings. they are very easy and comfortable to use. If you are the left or right handed, no problem, you will be capable to apply this stitching groover.
The importance of this tool for making marks on the edges of the leather are highly noticeable. A hassle free tool that I mean to say.
17. Leather compass and wing divider :
This leather marking tools are made of top quality steel, has good durability, is strong enough, has excellent hardness and toughness and wear- resistant. An urgently needed tool for all experimental leather works.

A leather compass and wing divider tool are used to mark the surface of the leather, primarily perfect for circles, size measurements, making arcs, dividing lines, divide gauges, or curved lines—ubiquitous and essential tools used in geometrical studies.

The wing divider has two parts with points at the bottom. They join at the top and in the middle position have a screw that can be adjusted by increasing or decreasing the distance between the points.

Because joining at the top, one point can be placed in a fixed position, and the other is rotated. This marking tool generally has sharp; metal ends—a sound- genuine leather marking tools.
What are the writing tools on leather?
Writing on the leather can be achieved in various ways. In general, it includes pen, pencil, individually formulated leather pens that can be wiped, with knives, engraving, and embossing.
What are the drawing tools on leather?
Drawing on the leather can be solved with many of the similar tools used to write on the leather. Generally, it includes pen, pencil, particular and exceptional leather pen that can be wiped, with knives, engraving, and embossing.
What are the leather marking tools for leather stitching?
To mark the leather for stitching or seaming, the perfect and workable way to use tools will leave a series of marks that are equally spaced, such as leather stitching wheel or over stitch wheel. This leather marking tools are the best to make thick or thin holes for stitches.